Achla FT-46 Athena Trellis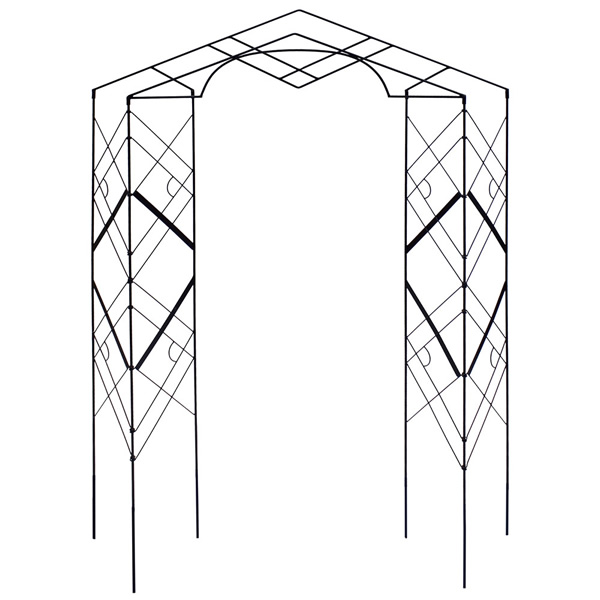 Click Image to Enlarge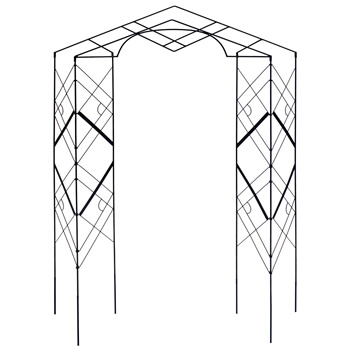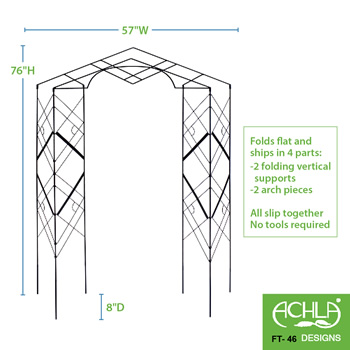 Achla FT-46 Athena Trellis
Oacft46
$155.99


Please note: We cannot ship this item to Alaska, California, Hawaii, Puerto Rico or Canada
For any avid gardener or plant lover, finding vertical space for your climbing vines, flowers, vegetables, or runners that keeps the garden looking attractive and tidy can be a challenge. Many people choose traditional wrought iron trellises and arbors for their combination of strength and graceful style. With the Athena Trellis by ACHLA Designs, you get not only the functionality of a sturdy plant support, but also the artistic beauty of an elegant wrought iron feature. This light and airy trellis provides plant support and screening of an intimate scale, with bi-fold side pieces that support an airy art-deco style pediment. Delicately frame a garden vignette, highlight a special specimen, or showcase a garden ornament.
The intimate arched design creates a perfect garden niche to showcase a special sculpture, garden ornament or specimen planting. With light airy details, this trellis provides ample points of contact for climbing garden plants to attach while bringing a stylish element to your yard or garden.
Easy installation with simple slip-in components that fit together without additional tools. Open the folding vertical sections and simply slide the arch components into the top of each. Push the legs directly into the garden soil. The trellis is easily dismantled, folding flat for shipping and storage.
Make efficient use of garden space with the Athena Trellis in any area of the garden, free-standing or against a wall. Trellising is a vital gardening tool, and beautiful trellises in your yard add an element of art to the landscape. Plant support for clematis, climbing hydrangea, roses, annual flowers or beans.
Measures 76"H x 57"W, with the lower 8" designed to sink into the soil. Our metal trellises are a cut above traditional wood lattice or utilitarian netting, ideal for growing perennials and creating a focal point of the garden.
All Achla Designs trellises are finished with a powder coating that is more resilient than liquid paint, leaving a hard finish that resists corrosion and will last more than just one season
Material:
Wrought Iron
Finish:
Black Powdercoat Finish
Assembly Required:
No
Achla Product Number:
FT-46