Achla FT-30 Freestanding Lattice Trellis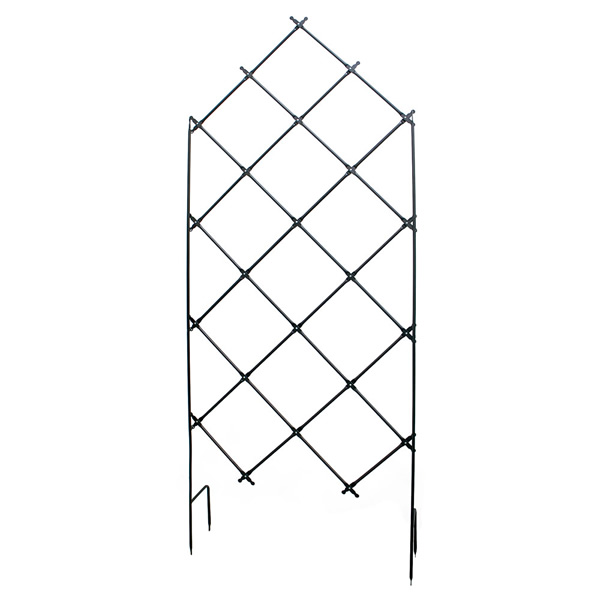 Click Image to Enlarge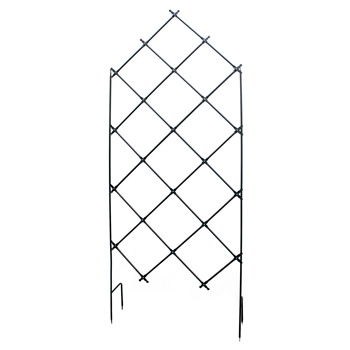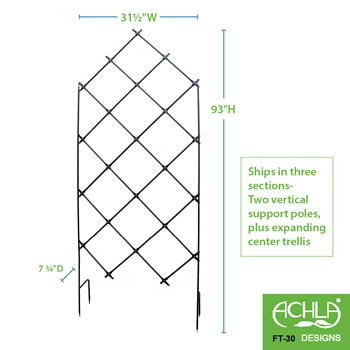 Achla FT-30 Freestanding Lattice Trellis
Oacft30
$78.49


Please note: We cannot ship this item to Alaska, California, Hawaii, Puerto Rico or Canada
For any avid gardener or plant lover, finding enough vertical space for your climbing vines, flowers, vegetables, or runners can be a challenge. Many people choose traditional wrought iron trellises and arbors for combination of strength with style. A Lattice Trellis by ACHLA Designs, has the functionality of a sturdy trellis, and is a versatile and attractive garden element. The Freestanding and Wall-Mounted options are suitable for small and large gardens alike, allowing you to provide support for showy blooming vines, create a green plant screen, or give your garden some privacy.
Lattice Garden Trellises by ACHLA Designs offer a diagonal twist on the traditional square garden lattice. The beautiful wrought iron lattice has a simple design with narrow enough spacing for plants to easily find their way up. Use for all climbing plants- vining vegetables, perennials, or annual blooming vines
For garden beds, borders, patios and balconies, Lattice Trellises can be used for outdoor vertical gardening in-ground or for container potted plants. They are also ideal for outdoor privacy screening or even to cover an unsightly or plain area with greenery. Optional wall brackets may be used to additionally secure the trellis, if needed.
Easy and versatile, this lattice is free-standing and lets outdoor climbing plants climb up with relative ease as they grow healthy and strong. It can be repositioned easily and folded, "accordion-style'' for storage. The two-pronged stakes make it more stable than the traditional flat trellis design.
Sturdy material and large scale, this Freestanding Trellis measures 93" H by 36" W and the folding Wall-Mounted Trellis expands to 43"H by 67"W. The lattice is made of slim, materials, yet is extremely strong and does not require netting or ties to keep the plants on its surface.
Finished with a Graphite powder coating for the look of natural wrought iron, and weather resistance, to last more than just one season
Material:
Wrought Iron
Finish:
Graphite Powdercoat Finish
Assembly Required:
No
Achla Product Number:
FT-30