---
Aptil, 2019
Red Hill Becomes Hillsville's Only Local Hardware Store
...Red Hill believes independent hardware stores in small towns are critical to a healthy local economy. When it comes to hardware stores, service and selection still mean something...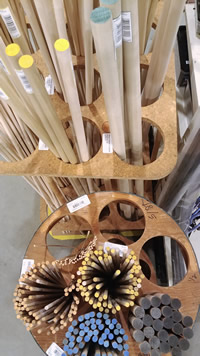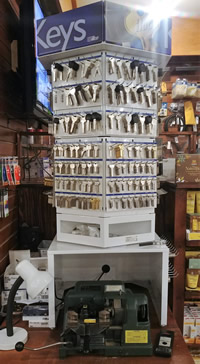 ---
AHOY! A Nautical Backyard Summer Bash!: Anders Ruff Custom Designs
Ahoy there! Jen Carver of Banner Events here to share a party theme perfect "from sea to shining sea". We invited our family & a couple of friends to join our "Carver Crew" for a sailin' good time at a nautical inspired 4th of July party...
---
March 12, 2013
Red Hill General Store in VA Won Business of the Year 2012
...So it seems like Red Hill General Store is hitting two birds with one stone. Apart from getting consumers into their growing branches all over the United States, it is also a way of teaching Americans to develop the 'green thumb.'...
---
December 13, 2012
Carroll Chamber Presents Awards
HILLSVILLE, V.A. (Galax Gazette)— Carroll County Chamber of Commerce capped off a busy year with its annual meeting at Cabo's on Dec. 6.
Executive Director Sherry Shaffner handed out awards and members elected a slate of officers....
---
August 20, 2011
Changing the Way We Think About Veggies
RALEIGH, N.C.--(North Raleigh News)-- ...When I met Largen, I got a sense of a guy who is not just operating a business, but spreading a lifestyle - a lifestyle you might have seen back in the days when general stores were more prevalent...
---
July 18, 2011
Homegrown Wind Turbine gets Upgrade
FANCY GAP, V.A. -- Last year, the Red Hill General Store in Hillsville, Va., built and installed a 5.5 kilowatt wind turbine on Gary Horton's beef farm. This year, the turbine, known affectoinately as "Breezy," celebrated its first birthday – and it's getting an upgrade...
---
July 1, 2011
Farmer Fridays - Buckets of Fun Down on the Farm
Earlier this week we saw the Real Farmwives of America & Friends use their bucket in the Home & Garden. Today, we are seeing how the Farmwives use their buckets on the farm, so lets stop by and see what chores the Farmwives are doing while using their buckets...
---
June 27, 2011
Buckets of Fun for Farmwives and You
Every farmwife has her trusty bucket that she uses around the house and garden. Her bucket is ideal for putting things in or used to accomplish tasks around the house in. Whether it's used as a decoration in her home, used outside for gathering food and flowers from the garden, or used temporarily as a toy for the kids, a good bucket is priceless on the farm....
---
June 26, 2011
Red Hill General Store by The Enchanted Tree
i wanted to share with you a really cool little store called Red Hill General Store that i just found this past weekend. It is surprisingly close, in Hillsville VA, which is the closest town too us actually a couple miles closer than Floyd!. i'm surprised it has taken us this long to find it...
---
June 06, 2011
Red Hill General Store Builds Sustainable Garden to Share Heirloom Veggies Passed Down for Generations
RALEIGH, N.C.--(BUSINESS WIRE)--To share the excitement of fresh heirloom vegetables with the community and to display some of the most popular heirloom seeds available, the local store known for its home canning expertise, Red Hill General Store bucked...
---
January 6, 2011
How to Find Real Things #1
When I do put on my modern hunter/gatherer hat, I think of my purchase as a vote. Do I spend my voting dollar on artisan-made or an overseas sweatshop? Am I going to vote for something that will last generations or for built-in-obsolesce? Will I purchase biodegradable or plastic? How about renewable resources, recycled, responsibly farmed, Fair Trade, local, nontoxic, or used? Do I even need to buy more stuff? Maybe the person I'm giving a gift to would appreciate something I already have or an honorary donation...
---
October 6, 2010
The zombies are here (insert scream!)
And now, the moment you've all been waiting for...I give you...the most adorably creepy zombie party EVER! created by Jenny of Hank and Hunt. Take your time and look over these amazing details...
---
July 21, 2010
Red Hill Holds a Windmill Raising
FANCY GAP, V.A.--(Gazette Virginian)--...Dozens of people, including Virginia state Senator Roscoe Reynolds and business developers Dallas Garrett and Bernie Deck, showed up on the farm on the ridge to see what happened with the windmill installation by Red Hill General Store...
---
June 16, 2010
Mrs. Howard Regrets
..."James", as the House Beautiful article refers to him, propped the Sea Island living room of his design with a regular paint pail from the Red Hill General Store. I had not heard of this online delight, but a quick flip through the simple website revealed a trove of tantalizing treasures...
---
June 2010
How-To Summer Party and Picnic Crafts
(Martha Stewart) -- ...Color-coordinated ice buckets -- red for rose and white for Sauvignon Blanc -- make it easy to spot your drink of choice...