Achla FT-26 Square-On-Squares Double Pole Trellis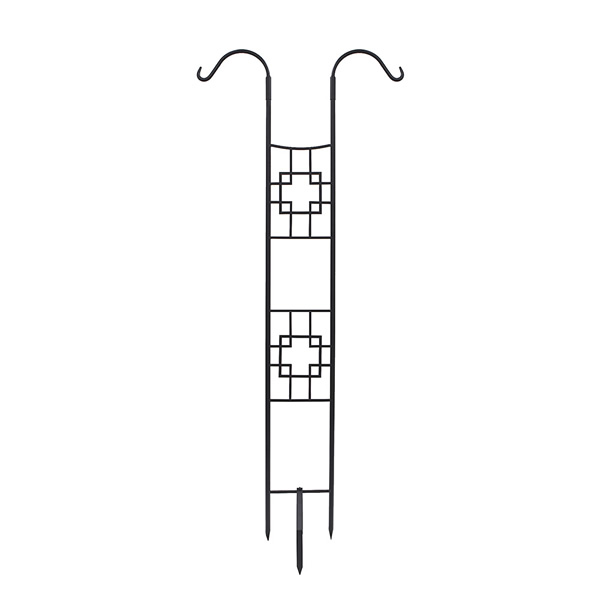 Click Image to Enlarge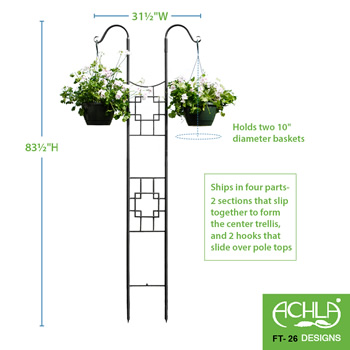 Achla FT-26 Square-On-Squares Double Pole Trellis
Oacft26
$101.99


Please note: We cannot ship this item to Alaska, California, Hawaii, Puerto Rico or Canada
For any avid gardener or plant lover, finding enough vertical space for your climbing vines, flowers, vegetables, or runners can be a challenge. Many people choose traditional wrought iron trellises and arbors for their combination of strength and graceful style. With Square-On-Squares Trellises by ACHLA Designs, you get not only the functionality of a sturdy plant support, but also the artistic style of a well-designed wrought iron structure. The Square-on-Squares Double Pole trellis makes an impression with or without climbing plants. Nearly 7 feet tall, it brings a pair of bountiful baskets up to eye level, even from afar. Use them to mark your garden entrance or line a drive with colorful blooms. Part of our Square-on-Squares Collection, the many pieces in this style can be used together to create a contemporary landscape theme.
The Square-On-Squares wrought iron Garden Trellises by ACHLA Designs are a contemporary diversion from the traditional square garden trellis or arbor. With an architecture theme of overlapping right angles, these trellises provide many points of contact for climbing garden plants to attach. Ideal for roses, clematis, wisteria.
Easy installation for decorative plant support, slide the two components together, attach the crossbar support and push the four spiked legs directly into the garden soil. Encourage vining plants to work their way up. Two hanging hooks slide onto the pole tops.
For garden beds, and lawns, these trellises can be used for outdoor vertical gardening in-ground, creating a dramatic border or entryway with both climbing and hanging plants.
Airy wrought iron pieces are slim yet strong, providing a strength and longevity that can reliably support your long-term perennial plantings. Square -On-Squares Trellis is tall, at 83 ½-in H x 31 ½-in W at hooks. The additional crossbar at the base provides four spiked legs for increased stability. Hang flower baskets, bird feeders, birdhouses, bells or chimes.
Finished with a Graphite powder coating for the look of natural wrought iron, and weather resistance, to last more than just one season
Material:
Wrought Iron
Finish:
Graphite Powdercoat Finish
Assembly Required:
No
Achla Product Number:
FT-26