Achla FT-25 Square-On-Squares Trellis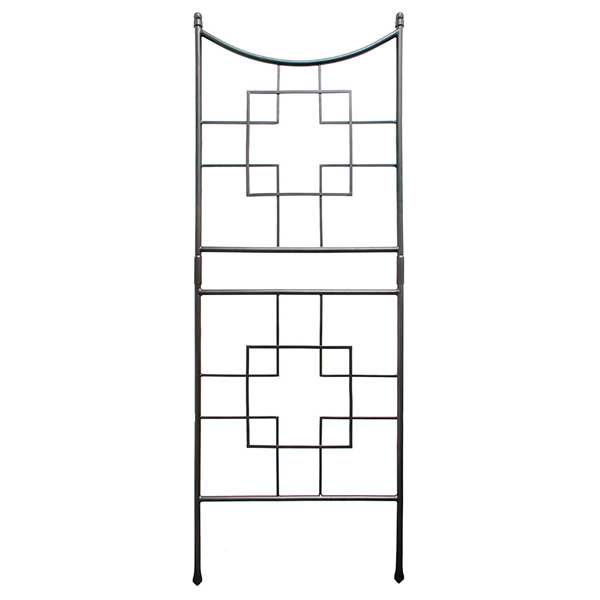 Click Image to Enlarge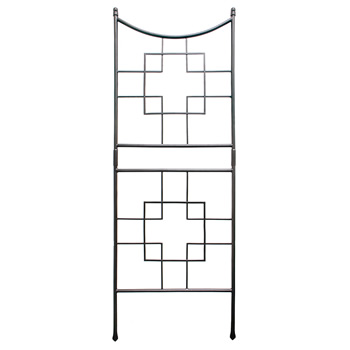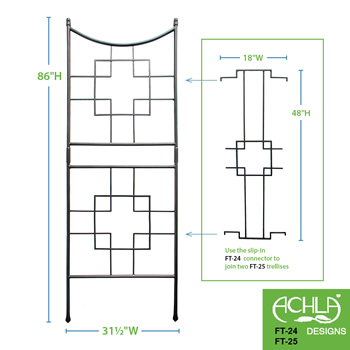 Achla FT-25 Square-On-Squares Trellis
Oacft25
$162.49


Please note: We cannot ship this item to Alaska, California, Hawaii, Puerto Rico or Canada
For any avid gardener or plant lover, finding enough vertical space for your climbing vines, flowers, vegetables, or runners can be a challenge. Many people choose traditional wrought iron trellises and arbors for their combination of strength and graceful style. With Square-On-Squares Trellises by ACHLA Designs, you get not only the functionality of a sturdy plant support, but also the artistic style of a well-designed wrought iron structure. These beautiful trellises feature a distinctly contemporary aesthetic to bring a modern style to your home and garden. The coordinating Square-On-Squares Arbor, Square-On-Squares Pylon, and Double Pole Trellis allow you to create a unified Modern garden theme.
A contemporary diversion from the traditional square garden trellis or arbor, with an architectural theme of overlapping right angles. These trellises provide many points of contact for climbing garden plants to attach, ideal for roses, clematis, wisteria.
For garden beds, borders, screens and walls, outdoor vertical gardening in-ground, creating a green screen on a plain or unsightly wall, and espaliering. Trellising is a vital gardening tool, and beautiful trellises make attractive accent pieces or focal points for your garden, building façade, or yard.
Airy wrought iron pieces are slim yet strong, providing a strength and longevity that can reliably support your long-term perennial plantings. Square -On-Squares Trellis is a generous 86-in H x 31-in H. Add a Square-On-Squares Center Link to increase width by 17 ½-in, and join two Square-On-Square Trellises sections together.
Finished with a Graphite powder coating for the look of natural wrought iron, and weather resistance, to last more than just one season
To use the Center Link to join two Trellis components together, insert side projections into corresponding slots in the Trellises and allow to drop in, no tools necessary. Stabilize with optional wall brackets and encourage vining plants to work their way up.
Material:
Wrought Iron
Finish:
Graphite Powdercoat Finish
Assembly Required:
No
Achla Product Number:
FT-25