Grandmas Don't Bug Me Bar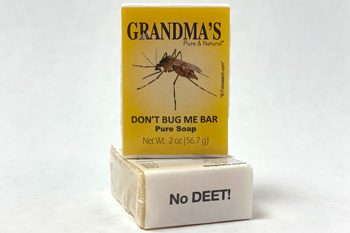 Click Image to Enlarge
Don't Bug Me Soap Bar, your ultimate solution to repel those pesky bugs while enjoying a refreshing shower experience. This soap bar is specially crafted with a blend of pure, high-quality ingredients that are designed to naturally ward off insects, without the use of harmful chemicals like DEET.
At the heart of this remarkable soap bar is pure soap, meticulously formulated to cleanse and nourish your skin. The gentle, yet effective cleansing properties of our soap ensure that your skin feels fresh and rejuvenated after every use, leaving behind no residue.
Infused with the natural goodness of citronella, rosemary, lemongrass, peppermint, and geranium, this soap bar releases a delightful, invigorating fragrance that not only uplifts your senses but also acts as a powerful insect repellent. These carefully selected botanical extracts have been used for centuries for their natural bug-repelling properties, making them the perfect choice for those who want to keep bugs at bay while enjoying the great outdoors.
Citronella, known for its distinct aroma, acts as a natural deterrent for mosquitoes, gnats, and other bothersome insects. Rosemary, with its earthy scent, adds an extra layer of protection against pests, while lemongrass provides a refreshing citrus fragrance that insects find unappealing. The invigorating notes of peppermint work wonders in repelling bugs, while the soothing scent of geranium enhances the overall aromatic experience.
Not only does the Don't Bug Me Soap Bar effectively repel insects, but it also pampers your skin. The nourishing ingredients in this soap, combined with the moisturizing properties of pure soap, help to keep your skin hydrated and supple, without causing any dryness or irritation.
Say goodbye to sticky insect repellents and hello to a refreshing shower experience with the Don't Bug Me Soap Bar. With its natural bug-repelling ingredients, pure soap base, and invigorating fragrance, this soap bar is an essential companion for anyone who loves spending time outdoors without being bothered by bugs. Enjoy the peace of mind and the luxurious feel of this remarkable soap while keeping those pesky insects far away.
Size:
2oz. Bar