PetSafe PDT00-16120 Remote Trainer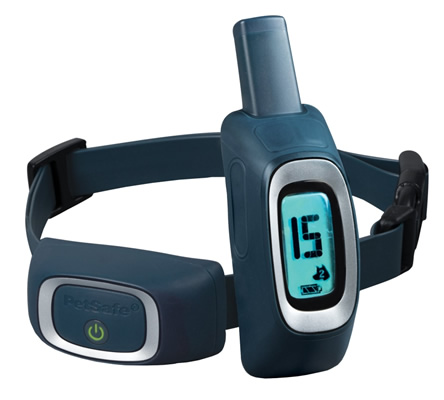 Click Image to Enlarge
If your pet pooch has great intentions but needs to learn some social graces when they are on walks or playing at the dog park, the PetSafe 600 yd remote trainer can help you correct their behavior with the push of a button. The waterproof digital remote and collar allow pet parents to train their tail-waggers off-leash and help stop them from lunging, digging, chewing and other unwanted canine conduct. Safely correct your dog's behaviors within a 600 yd range using tone (beep), vibration and 15 adjustable levels of static stimulation (including a safety lock for higher levels). Both the remote and collar charge within 2 hr, have a battery life up to 40 hr and include a quick-charging adapter is included. The digital remote is easy to read and features two separate buttons for tone and static stimulation. The waterproof training collar fits dogs 8 lb and up with neck sizes 6 to 27 in. Train two dogs with one remote with an extra collar. The trainer is ideal for walking around the neighborhood, hitting the greenway and meeting new friends at the dog park. PetSafe brand is here to help you and your pet live happy together™.
Off-leash training
Neighborhood trainer works within a 600 yd range and is great for neighborhood walks and the dog park
Uses three types of stimulation as tone (beep), vibration and 15 levels of static stimulation includes a safety lock feature for higher levels
Quick charge
The lightweight digital remote is waterproof, easy to read and has two separate buttons for tone and stimulation
Waterproof, lightweight collar
Control Range 600 yd
Includes Rechargeable Remote and Collar with Adjustable Premium Coated Nylon Strap Short and Long Contact Points Test Light Tool Wall Adapter
Number of Correction Levels 15
Number of Stimulation Levels 3
Power Source Battery
Suitable for 6 to 27 in Neck 8 lb and Up Dogs
Type Digital Waterproof
Height: 8.750"
Length: 6.250"
Width: 5.750"