Nite Ize NITEHOWL NHOR-07S-R3 Safety Necklace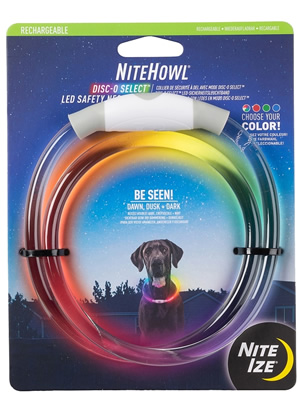 Click Image to Enlarge
This rechargeable NiteHowl changes colors using an eye-catching color-blending pattern and offers three selectable colors. The cut-to-fit design makes it perfect for both big and small dogs, while the full ring of illumination helps keep your dog seen and safe at night. Our brilliantly durable rechargeable NiteHowl LED Safety Necklace is made with flexible polymer that's illuminated by bright LEDs and can be recharged for hours of night time fun and safety. With Disc-O Select, this NiteHowl makes identifying multiple dogs easy with the ability to choose from one of three selectable colors (red, green, blue), plus a unique Disc-O mode that you'll have to see to believe. By illuminating the polymer with multiple colors at the same time, Disc-O mode creates a flowing color-blending pattern that's as fun as it is functional.
Easily slides over your dog's neck as a bright LED addition to an existing collar
Disc-O mode features unique color-blending pattern
360 deg of illumination
Universal sizing - cut to fit from 12 to 27 in
Micro USB rechargeable
Design/Theme LED
Material Polymer
Resists Weather
Height: 7.000"
Length: 5.500"
Width: 0.750"