Nite Ize NDCC-03-09 LED Collar Cover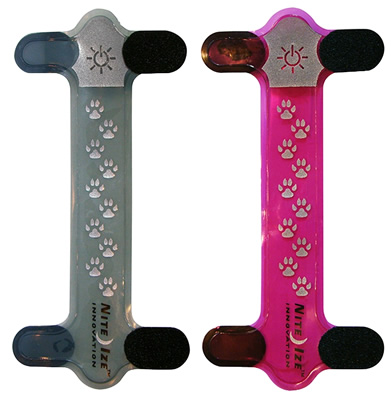 Click Image to Enlarge
The Nite Ize Nite Dawg LED collar cover is the answer to every night-loving dog owner's problem losing sight of their best buddy after sundown. Durable, weather-resistant and lightweight, this super low-profile (not much thicker than a bandage) flexible LED illuminated strip fits comfortably over almost any dog's collar and closes securely with two micro hook-and-loop tabs. Its bright, light-transmitting polymer core is illuminated by a super efficient red LED bulb with two mode settings, flash and steady glow and is housed in a high-quality thermal plastic urethane exterior. Visible up to 1000 ft in the dark and powered by a long-life, easily replaceable battery (included), the night dawg LED collar cover is available in two colors, with decorative paw prints that provide passive reflectivity for visibility even when not illuminated.
Secure micro hook and loop fastener, fits collars up to 1 in
Bright red LED, flash or glow modes
Weather-resistant
Color Gray/Pink
Includes Battery
Height: 11.000"
Length: 2.400"
Width: 0.500"