Portable Kerosene Cookstove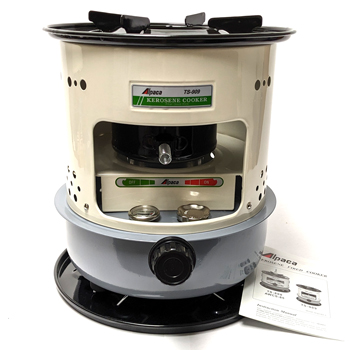 Click Image to Enlarge
Introducing the Thrilling Alpaca Portable Kerosene Cook Stove: Ignite Your Culinary Adventures! Ladies and gentlemen, feast your eyes on the groundbreaking marvel that is set to revolutionize your outdoor cooking experience - the all-new Alpaca Portable Kerosene Cook Stove! Prepare to be captivated as we unveil a kitchen powerhouse that combines the timeless convenience of a kerosene cookstove with an extraordinary blend of innovation and excitement.
Unleash the Fire Within: Unprecedented Efficiency, Portability, and Durability! Embark on a journey of culinary mastery with the Alpaca Portable Kerosene Cook Stove, a true embodiment of efficiency, portability, and durability. Crafted to perfection, this remarkable creation redefines the very essence of outdoor cooking. Imagine the convenience of a kerosene cookstove seamlessly blending with the raw power and reliability you demand.
Your Culinary Canvas: Infinite Adjustability at Your Fingertips! Prepare to be astounded by the sheer versatility of the Alpaca Kerosene Cook Stove. With full adjustability at your fingertips, you now have the power to tame the flames, transforming them from roaring infernos to gentle flickers. Lower heat settings? Consider it done! Your culinary canvas awaits your artistic touch. Ignite the Speed: Rapid Water-Boiling Redefined! Hold your breath as the Alpaca Kerosene Cook Stove showcases its lightning-fast water-boiling prowess. Witness water dance into a mesmerizing boil in record time, leaving you awestruck and ready to conquer your culinary endeavors with unparalleled speed and efficiency.
Conquer the Outdoors: Your Answer to Every Heating Demand! Mother Nature's challenges stand no chance against the might of the Alpaca Kerosene Cook Stove. From chilly mornings on mountaintops to twilight gatherings under starlit skies, this stove emerges as the ultimate solution for all your outdoor heating demands. Embrace the elements and conquer the outdoors with your newfound ally. Your Culinary Sidekick: Wherever Adventure Calls! Adventure knows no bounds, and neither does the Alpaca Kerosene Cook Stove. With this indomitable companion by your side, you're armed with a reliable kerosene cookstove that's ready to spring into action whenever and wherever you need efficient outdoor cooking. A culinary masterpiece awaits your command. Elevate your camping, hunting, canning, and unexpected emergency experiences with a force to be reckoned with. Prepare. Ignite. Conquer. The Alpaca Portable Kerosene Cook Stove - where innovation meets adventure!
Model - TS-909
High 8500 BTU heat output
Large 3.5 liter (3.7 qt.) fuel tank
Efficient 0.22 liter/hour fuel consumption
Long 16 hour running time on full tank
Easy-cleaning top pan
Fuel gauge
Comfortable carry handles
Steel drip tray base
Quality fit and finish
12.8"L x 12.8"W x 13.39"H