Suncast JNF175B Hose Reel Cart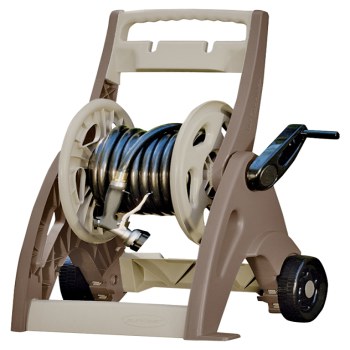 Click Image to Enlarge
Sturdy resin construction comes fully assembled. EasyLink system ensures a watertight connection between hose reel and hose. For use with 5/8 in hose. Size of hose cart is 24-1/4 x 20-1/4 x 32 in.
Comes fully assembled
Hose hooks hold end of leader hose or garden hose
Width includes extended crank handle
Color Light Taupe/Mocha
Dimensions 24 in W x 20 in D x 32 in H
Handle Type Crank
Hose Capacity 175 ft of 5/8 in
Hose Size 5/8 inch
Includes Leader Hose
Material Vinyl
Height: 45"
Length: 22.8"
Width: 22"