Squirrel-X 38023 Squirrel Baffle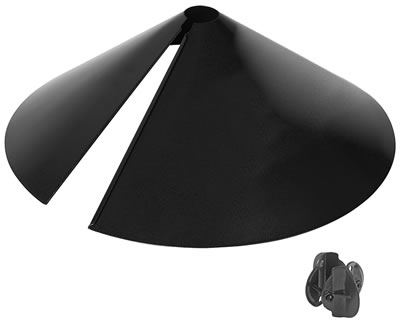 Click Image to Enlarge
Stop racketeering rodents right in their tracks with the Squirrel-X 18 in. Wrap-around squirrel baffle, when installed properly with the included coupler, the durable steel baffle prevents pole-climbing squirrels from accessing bird feeders, keeping bird seed safe and saving you money! Compatible with 1/2 to 1-1/4 in Dia poles, its unique wrap-around design means easy installation, anytime. With a wide 18 in Dia, the Squirrel-X wrap-around squirrel baffle is your defense against squirrels.
Stops pole-climbing squirrels when installed properly
Unique wrap-around design easily installs, anytime
Durable steel construction
Wide 18 in Dia
Compatible with 1/2 to 1-1/4 in Dia poles
Color Dark Green
Finish Powder-Coated
Includes Mounting Hardware
Specifications Pole-Mount
Suitable for 1/2 to 1-1/2 in Dia Pole or Shepherd Hooks
Type Wrap-Around
Height: 9.880"
Length: 18.680"
Width: 19.500"