Solo 425 Backpack Sprayer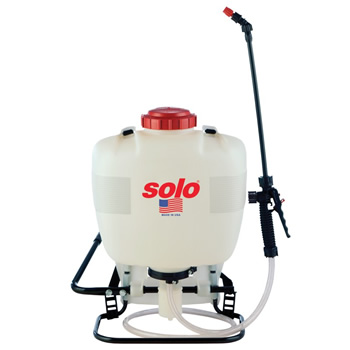 Click Image to Enlarge
With a connecting rod activated piston pump, the Solo 425 produces 90 psi, and is capable of performing virtually every spraying task. Easily and effectively handles disinfectants, fertilizers, herbicides, pesticides, and formulations for tree, shrub and plant protection (clean sprayer between use). Ideal for use on larger jobs. Internal Viton seals insure long life and durability. Lightweight, non-corrosive high density, polyethylene tank with UV inhibitors provides unmatched durability and ultra-violet protection. Contoured design, padding and adjustable harness provide real comfort. Pump handle can be switched for left or right hand operation. Recommended for liquid chemicals only.
Factory set at 90psi - Non Adjustable
Shut-off valve/wand overall length of 28" for hard to reach places
Padded shoulder straps for greater operator comfort
Chemically resistant Viton seals.
Fill Capacity: 15 Liters/4 Gallons
Fill Neck Opening: 4 1/4 inches
Cylinder capacity: 49 cubic inches
Output: .7 US Gallons per minute
Supplied with adjustable, flat fan, hollow cone and jet stream nozzles
48" high pressure Premium PVC hose