Rain Bird 35ADJTNTB Impact Sprinkler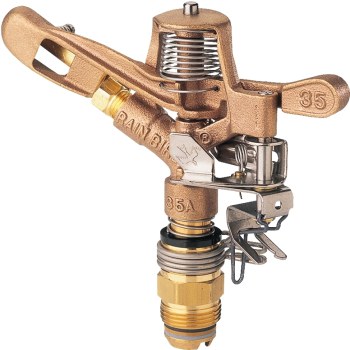 Click Image to Enlarge
Brass impact sprinkler delivering reliable performance season after season. Designed after Rain Bird's original impulse sprinkler, with all the features and durability of modern engineering. This heavy-duty sprinkler is constructed of brass, bronze and stainless steel; lasts longer than competitors' zinc sprinklers.
Easy to install and adjust, full and part circle coverage with infinite pattern adjustment
Straight through water flow design for great dirty water performance
Adjustable deflector flap adjusts stream length from 23 to 50 ft radius
Diffuser screw breaks water into smaller droplets for uniform watering and allows up to 25% radius reduction
Water saving die-cast, white bronze PJ spray arm controls stream and prevents side splash onto buildings as well as walkways
Gritproof bearing for reliable operation
Adjustable Rotation Angle 20 to 340 deg
Connection Size 4-Mar in
Dimensions 4.12 in W x 2 in D x 4.25 in H
Flow Rate 3.9 to 7.8 gpm
Full-Circle/Part-Circle Full/Part-Circle
Material Brass/Bronze/Stainless Steel
Pressure Rating 25 to 50 psi
Spray Pattern Full/Part Circle
Height: 8"
Length: 13"
Width: 6"