Power Jet BL-GW100 Retractable Hose Reel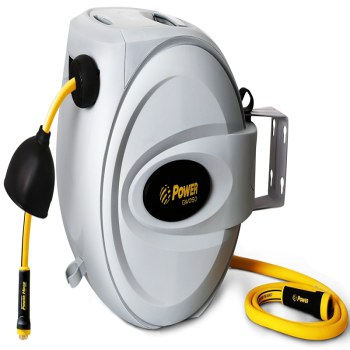 Click Image to Enlarge
The Power products USA retractable hose reel 1/2 in x 100 ft comes with a unique nozzle protector, which prevents the hose from causing damages or harming someone when retracting. Our slow return system is exclusive in the market!.
Slow return system
Heavy-duty twist collar
3 layer hybrid hose
Brass fittings
Ultimate weather performance
Easy removal for storage and portability
Dimensions 23 in H x 21 in W x 13 in D
Hose Length 100 ft
Hose Size 2-Jan in
Includes Nozzle Protector
Mounting Type Swivel
Pressure Rating 500 psi
Height: 26"
Length: 23"
Width: 21"