Perky-Pet TSS00349 Dual-Mesh Bird Feeder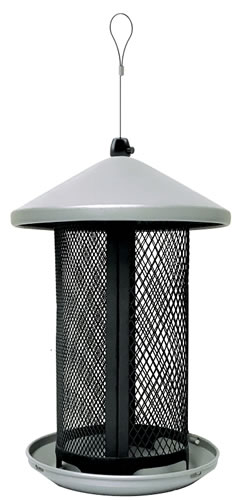 Click Image to Enlarge
Attract a variety of your favorite bird species with the Perky-Pet dual-mesh seed feeder. With this feeder, you get superior durability and functional design in one convenient package. This charming feeder has room for many birds at ones, because it allows for both clinging and perching. Plus, the two independent seed compartments allow you to serve 1.1 lb of sunflower seed and 1.75 lb of thistle at the same time so your bird's favorite foods are always on the menu.
Circular seed tray and mesh surface for clinging and perching birds
Powder-coated all-metal construction resist squirrels and damage
Sure-Lock cap tightly secures lid to keep squirrels out
Built-in drain holes keep seed fresh and dry
Attracts Chickadees Finches Nuthatches Titmice
Color Gray
Finish Powder-Coated
Material Metal
Squirrel-Resistant Yes
Height: 12.000"
Length: 7.500"
Width: 7.500"