Perky-Pet Squirrel-Be-Gone Max 333 Bird Feeder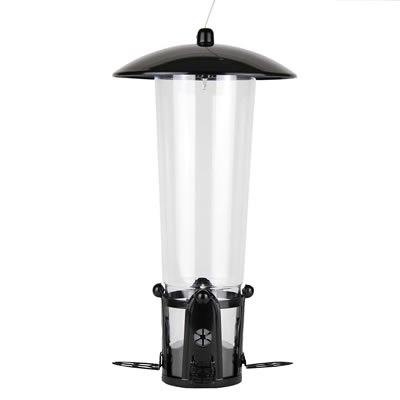 Click Image to Enlarge
Offering maximum protection against squirrels and maximum comfort for your favorite birds, the Perky-Pet Squirrel-Be-Gone max bird feeder with Flexports is the feeder you've been searching for. To offer defense against squirrels, this feeder offers a Sure-Lock cap and a weight activated Seed Shield so squirrels can't gain access to the seed supply. In addition to its squirrel proof features, the Squirrel-Be-Gone max is also a favorite of birds. It also includes four feeding stations with our patented Flexports, which offer 5-in-1 benefits for birds and you. With its rustic powder coating, this feeder will make a charming addition in any backyard setting.
Patented weight activated technology closes off ports under a squirrel's weight
Hang the feeder with 18 in of clearance on all sides
Four feeding stations with Flexports prevent seed spillage and offer comfort for birds
Extra wide, 5 in opening for easy, mess-free filling
Ladder style perch accommodates a variety of bird sizes
New and Improved Sure-Lock cap keeps squirrels from removing lid
Easy to clean thanks to the removable, twist-off lid
Food Capacity 3 lb
Food Type Black-Oil Sunflower Seed Sunflower Chips or Safflower Seed
Material Metal
Number of Ports/Perches 4
Height: 18.110"
Length: 17.720"
Width: 10.400"