Perky-Pet GSS00347 Wild Bird Feeder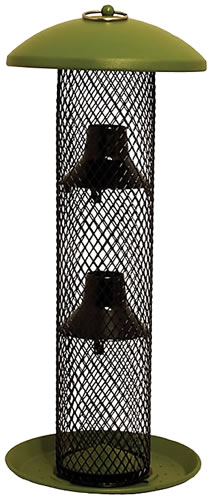 Click Image to Enlarge
Birds of a feather flock together at the Perky-Pet straight-sided sunflower tube wild bird feeder. Offering a large 1.5 lb seed capacity, this tube feeder is sure to keep your hungry backyard birds in good supply. It's designed to hold and dispense black oil sunflower seed, which continues to be one of the most popular types of seed for a wide variety of wild birds. Thanks to the feeder's Evenseed technology, sunflower seed is evenly dispensed to all three tiers for easy access no matter where birds are resting. The all-mesh surface area provides plenty of space for birds to cling while they dine and reduce competition. Perching birds can also feel at home at this feeder due to the attached seed tray. You'll be able to attract more species of birds than ever before. Additionally, Perky-Pet feeders use no plastic or wood components, it's all-metal mesh, because of this, the Straight-sided sunflower tube feeder is sturdy enough to resist squirrels and other small critters that attempt to pilfer seed. The built-in baffle serves as an added defense line against these bandits. Plus, the powder-coated finish prevents rusting in all manner of weather. For your convenience, this tube feeder can be hung or pole mounted to allow for unlimited placement options all around your property.
Powder-coated all-metal mesh construction for excellent durability
Twist-off top allows for effortless refilling
Built-in baffle and seed tray
Evenseed technology dispenses seed evenly throughout 3 different tiers
Color Green
Finish Powder-Coated
Food Capacity 1.5 lb
Material Metal
Mounting Type Hanging
Height: 7.560"
Length: 17.000"
Width: 14.980"