Perky-Pet GAZ01 Bird Feeder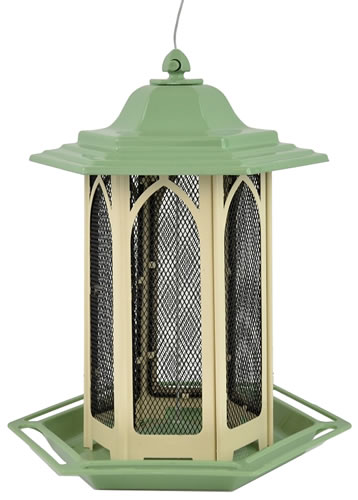 Click Image to Enlarge
Make your backyard the go-to hangout spot for wild birds with the Perky-Pet pistachio green gazebo feeder. This feeder boasts a wrap around seed tray that allows birds to perch anywhere around the feeder. With the ability to hold up to 3.5 lb of mixed seed, your favorite backyard birds won't be able to resist flocking to your yard. In addition to offering features birds love, this feeder also makes a charming addition to any outdoor setting with its quaint gazebo-style design. The powder-coated finish prevents rust to ensure it will be a focal point for years to come.
Wraparound tray allows for 360 deg perching and catches dropped seeds
Sure-Lock cap helps to keep squirrels out of the reservoir
Wide opening allows for easy filling and cleaning
Built-in drainage holes keep seed fresh and dry
Mesh allows birds to feed from all angles
Attracts Chickadees Finches Nuthatches Titmice
Color Pistachio Green
Design/Theme Gazebo
Food Capacity 3.5 lb
Food Type Mixed Seed
Includes Hanger
Material Metal/Plastic
Squirrel-Resistant Yes
Height: 12.500"
Length: 7.750"
Width: 8.750"