Perky-Pet 9214-6 Bird Feeder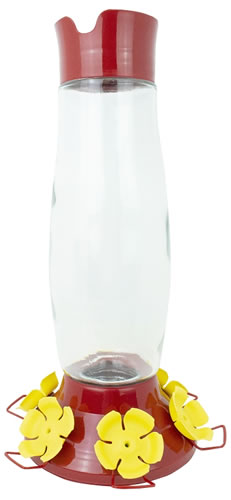 Click Image to Enlarge
The Perky-Pet top-fill grand master plastic hummingbird feeder is a favorite of birders and hummingbirds alike. It's a new variation on our beloved grand master feeder, now with top-fill technology. The charming, fluted plastic bottle with a wide-mouth opening and top-fill design ensure that filling is always easy and mess-free, while you enjoy time saved from filling and cleaning, your hummingbirds won't be able to resist the feeder's lifelike flower-inspired feeding ports. They are bright, soft and flexible just like the flowers they flock to in nature! plus, the astounding 48 oz capacity will keep hordes of hummingbirds satisfied for quite some time. This feeder also features and ant moat and natural bee guards to keep insects out.
Wide-mouth top-fill design for easy, mess-free filling
Six flower-inspired feeding ports are soft and flexible for a natural feel
Feeding ports are tapered to keep bees out of nectar
Fill built-in ant moat with water to protect against ants
Locking channel minimizes leaking
Entire feeder comes apart for easy cleaning
Holds an astounding 48 oz of nectar
Attracts Allens Hummingbird Annas Hummingbird Calliope Hummingbird Ruby-throated Hummingbird Rufous Hummingbird
Color Red
Design/Theme Top-Fill
Food Type Nectar
Material Plastic
Mounting Type Hanging
Number of Ports/Perches 6
Height: 14.200"
Length: 6.000"
Width: 6.000"