Perky-Pet 9106-2 Bird Feeder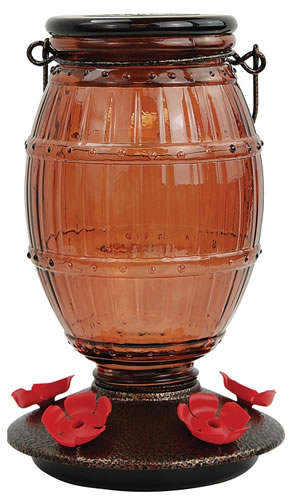 Click Image to Enlarge
Presenting the patented top-fill feature you love with a stunning new color scheme and glass construction, the Perky-Pet prohibition top-fill glass hummingbird feeder is a favorite of birders and hummingbirds alike. The wide-mouth opening and top-fill design ensure that filling is always easy and mess-free. While you enjoy time saved from filling and cleaning, your hummingbirds won't be able to resist the feeder's life like flower-shaped feeding ports. They are bright, soft and flexible just like the flowers they flock to in nature. The flowers' long stem design also acts as a natural bee guard to keep bugs out. Find the best seat in your house now, because hummingbirds are sure to be on their way.
Five latana flower-inspired ports are soft and flexible for a natural feel
Gasket in the feeder base prevents leaking
Optimized ports and flowers for easy nectar access and bee protection
Sealed based design minimizes leaks and spills and comes apart for easy cleaning
Gasket prevents leaks
Attracts Allens Hummingbird Annas Hummingbird Calliope Hummingbird Ruby-Throated Hummingbird Rufous Hummingbird
Food Capacity 36 oz
Food Type Nectar
Number of Ports/Perches 5
Height: 12.000"
Length: 7.500"
Width: 10.000"