Perky-Pet 8139-2 Bird Feeder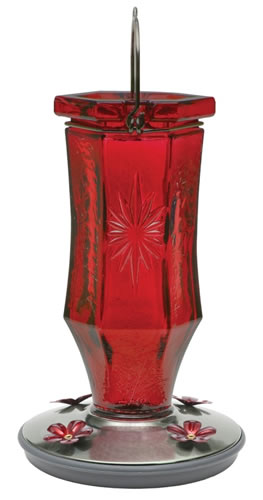 Click Image to Enlarge
Perky-Pet Ruby starburst vintage hummingbird feeder will add style and sophistication to your backyard hummingbird feeder collection. The bright red bottle embossed with unique starburst accents will attract the attention of hummingbirds from all over. The 4 red flower feeding ports on the brushed nickel base ensure that hummingbirds will know exactly where to go for a tasty meal. With a 16 oz nectar capacity.
Red glass vintage bottle
Embossed with starburst accents
Wide bottle opening for easy cleaning and filling
4 flower-shaped feeding ports
16 oz nectar capacity
Attracts Hummingbird
Color Red
Design/Theme Ruby Starburst Vintage
Food Capacity 16 oz
Material Glass
Number of Ports/Perches 4
Height: 12.500"
Length: 9.250"
Width: 6.880"