Perky-Pet 8135-2 Bird Feeder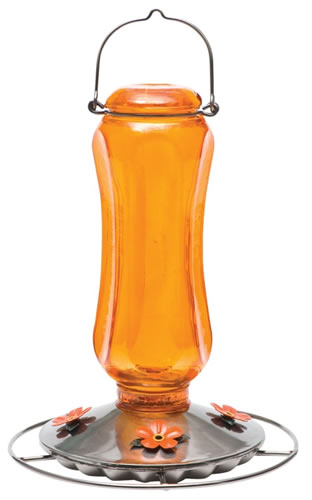 Click Image to Enlarge
The 4 feeding ports on the brushed nickel base feature vibrant orange flowers with green leaves, resembling of the flowers orioles drink from in nature. The port openings are slightly larger than those of a hummingbird feeder to make room for an oriole's larger beak and tongue. Holding up to 16 oz of nectar will come in handy when the orioles start flocking to this feeder.
Vintage carnival glass bottle with orange luster finish
Wide bottle opening for easy cleaning and filling
Unique circular perch design
4 flower-shaped feeding ports
16 oz nectar capacity
Attracts Oriole
Color Orange
Design/Theme Carnival Glass Vintage
Finish Luster
Material Glass
Number of Ports/Perches 4
Height: 16.750"
Length: 10.200"
Width: 8.700"