Perky-Pet 8133-2 Bird Feeder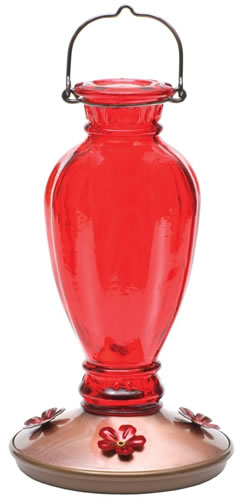 Click Image to Enlarge
Perky-Pet Daisy vase vintage hummingbird feeder is elegant and highly functional. Just fill with 18 oz of nectar and hummingbirds will buzz to your porch, backyard or garden. The gorgeous daisy vase glass design with red luster finish will certainly complement your outdoor decor. Its features include a wide mouth opening for easy filling and cleaning, four flower-shaped feeding ports for optimal nectar access and a 18 oz nectar capacity to keep your hummingbirds visiting day after day.
Vintage style glass bottle
Red with luster finish
Traditional vase design
Wide bottle opening for easy cleaning and filling
18 oz nectar capacity
4 flower-shaped feeding ports
Attracts Hummingbird
Color Red
Design/Theme Daisy Vase Vintage
Finish Copper/Luster
Material Glass
Number of Ports/Perches 4
Height: 12.700"
Length: 9.800"
Width: 6.900"