Perky-Pet 8132-2 Bird Feeder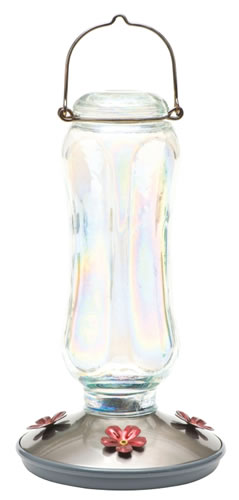 Click Image to Enlarge
This unique Perky-Pet StarGlow vintage hummingbird feeder will attract hummingbirds and add a vintage touch to any outdoor living space. The gorgeous clear luster finish glass design works as a functional accent piece and complements the most modern chic outdoor decor. The feeder features a wide mouth opening for easy filling and cleaning, four flower-shaped feeding ports and a 16 oz nectar capacity to keep your hummingbirds well fed.
Vintage style glass bottle
Clear with star glow luster finish
Wide mouth for easy filling and cleaning
16 oz nectar capacity
Four flower-shaped feeding ports
Attracts Hummingbird
Color Clear
Food Capacity 16 oz
Mounting Type Hanging
Number of Ports/Perches 4
Height: 12.600"
Length: 10.300"
Width: 6.900"