Perky-Pet 8131-2 Bird Feeder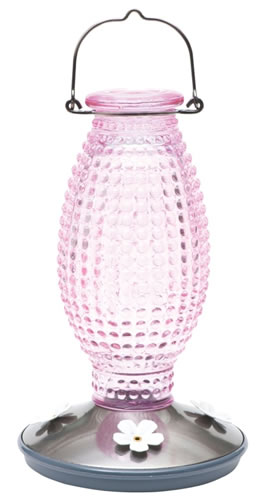 Click Image to Enlarge
Perky-Pet Cranberry hobnail vintage hummingbird feeder combines elegance and functionality to attract hummingbirds to your porch, backyard or garden. The beautiful pale cranberry hobnail design is modern chic and works as an accent piece or complements existing vintage outdoor decor. Its features include a wide mouth opening for easy filling and cleaning, four feeding ports for optimal nectar access and a 16 oz nectar capacity to keep those hungry hummingbirds fed all day long.
Vintage hobnail glass bottle
Wide bottle opening for easy cleaning and filling
Pale cranberry finish
16 oz nectar capacity
4 flower-shaped feeding ports
Attracts Hummingbird
Color Pale Cranberry
Design/Theme Hobnail Vintage
Finish Brushed Nickel
Material Glass
Number of Ports/Perches 4
Height: 12.600"
Length: 9.500"
Width: 6.800"