Perky-Pet 8129-2 Bird Feeder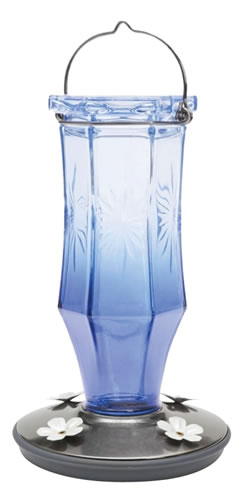 Click Image to Enlarge
The four flower feeding ports on the brushed nickel base will give your hummingbirds plenty of room to dine around this beautiful feeder. With a 16 oz nectar capacity, there will be plenty of nectar to go around. The attached metal hanging wire allows you to place your feeder in the ideal location for you to witness the wonderment of hummingbirds buzzing about.
Blue glass vintage bottle
Embossed with starburst accents
Wide bottle opening for easy cleaning and filling
4 flower-shaped feeding ports
16 oz nectar capacity
Attracts Hummingbird
Color Blue
Design/Theme Sapphire Starburst Vintage
Finish Brushed Nickel
Material Glass
Number of Ports/Perches 4
Height: 6.750"
Length: 12.380"
Width: 9.250"