Perky-Pet 8110h-1 Bird Feeder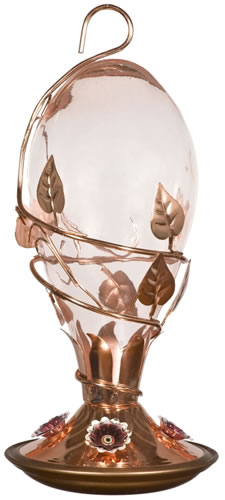 Click Image to Enlarge
Boasting an artistic and functional design, the Perky-Pet looking glass hummingbird feeder offers not only visually stunning aesthetics, but also makes it easy to attract beautiful hummingbirds. Your fast-flying feathered friends won't be able to resist the bright flower-shaped feeding ports and large 32 oz nectar capacity. With this elegant hanging feeder, you can enjoy iridescent colors, purring wings and delightful dances as your visitors flit about while seated in your favorite bird-watching spot.
Globe-shaped bottle and copper elements stand out in any yard
Four flower-shaped feeding ports accommodate multiple birds
Tinted glass bottle for at-a-glance nectar monitoring
Feeder comes apart for thorough cleaning
Holds up to 32 oz of nectar
Attracts Hummingbird
Color Beige
Food Capacity 32 oz
Material Glass/Metal
Number of Ports/Perches 4
Height: 13.380"
Length: 6.000"
Width: 17.500"