Perky-Pet 785 Bird Feeder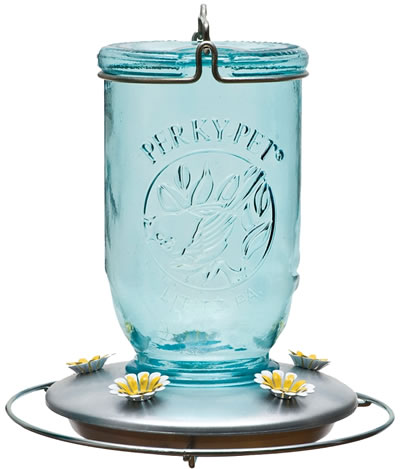 Click Image to Enlarge
The vintage look of this Perky-Pet mason jar hummingbird feeder will attract hummingbirds near and far, as well as add a touch of rustic appeal to your yard. The blue color of the bottle is reminiscent of blue glass canning jars from the 1800's. This large 32 oz capacity feeder will keep your hummingbirds coming back again and again. The metal base and 5 flower feeding ports are easy-to-clean. Simply unscrew the bottle from the base and clean in warm soapy water and you're good to go.
Antique blue glass mason jar with embossed details
Five white and yellow metal flower feeding ports
Galvanized metal base with circular perch
Holds 32 oz of nectar
Attracts Hummingbird
Color Blue
Food Capacity 32 oz
Material Glass
Number of Ports/Perches 5
Height: 8.000"
Length: 16.500"
Width: 8.500"