Perky-Pet 481F Bird Feeder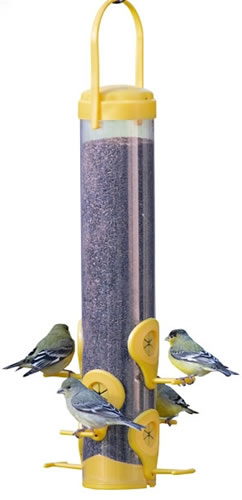 Click Image to Enlarge
Attracting goldfinches, purple finches, redpolls and siskin's to your yard with the Perky-Pet finch feeder. This feeder includes our patented Flexports, which offer benefits for birds and you. The flexible rubber port cover is uniquely designed to prevent seed clogging and is the perfect size for small finch seed. The design also allows birds to feed in a more natural position. With 1.5 lb of Nyjer on offer, your backyard birds will be in good supply. Plus, the bright yellow accents on this tube feeder are sure to catch the eye of thistle-eating birds as they pass by.
Offers more feeding angles than standard finch ports
Dual perch positions allow right-side-up and upside-down feeding
Six feeding stations with Flexports prevent seed from clogging
Flexible rubber port cover protects seed from the weather
Clear tube makes it easy to monitor seed levels
Holds up to 1.5 lb of Nyjer/thistle seed
Attracts Goldfinches Purple Finches Redpolls and Siskins
Color Clear/Yellow
Food Capacity 1.5 lb
Food Type Nyjer Thistle
Number of Ports/Perches 6
Height: 15.080"
Length: 3.000"
Width: 3.000"