Perky-Pet 345 Small Bird Feeder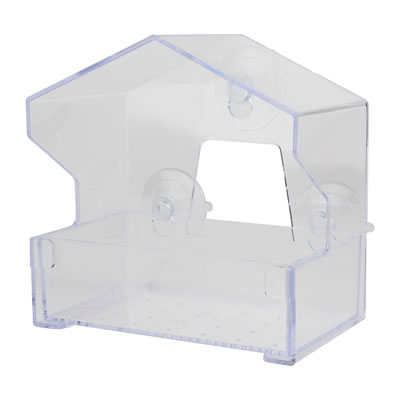 Click Image to Enlarge
Enjoy having your favorite birds right outside your window with the Perky-Pet window bird feeder. Attach it directly to your window for easier bird watching from the excellent seat in your house. The large entrance and strong suction cups will accommodate even large birds like cardinals. This feeder features a removable tray, capable of holding up to 0.5 lb of seed, making it easy to fill and clean without detaching from the window. One thing's for sure, this feeder promises intriguing sightings throughout the day.
Attach directly to a window for hours of bird feeding pleasure
Crystal clear plastic design makes bird watching easier
Large 4 in entrance fits even large birds like cardinals
Removable seed tray allows for easy filling and cleaning without detaching from window
Includes 3 suction cups for a strong, secure hold on windows
Holds up to 1/2 lb of sunflower chips, sunflower seed, safflower seed or mixed seed
Attracts Bluebirds Cardinals Chickadees Nuthatches Wrens
Food Capacity 0.5 lb
Food Type Black-Oil Sunflower Seed Mixed Seed Sunflower Chips Safflower Seed
Includes (3) Suction Cups
Mounting Type Window
Number of Ports/Perches 1
Squirrel-Resistant No
Height: 7.200"
Length: 12.900"
Width: 8.100"