Perky-Pet 337 Wild Bird Feeder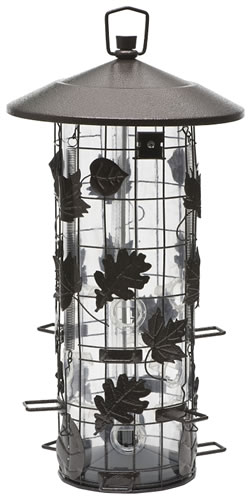 Click Image to Enlarge
Squirrel proof system with triple tube design uses squirrel's own weight to block off seed access. Separate 3 cavity design allows for a variety of different seed mixes for 9 feeding stations. Squirrels weight blocks access to food. Adjustable spring tensioner for protection against smaller squirrels.
Weight-activated cage blocks access to seed ports under a squirrels weight
U-shaped perches
8 lb seed capacity
No assembly required
Attracts everything from cardinals, finches, flickers and grackles to grosbeaks, jays, juncos and kinglets even sparrows, wrens and woodpeckers
Finish Rustic Brown
Material Metal
Mounting Type Hanging
Height: 21.810"
Length: 20.600"
Width: 10.920"