Perky-Pet 285 Bird Feeder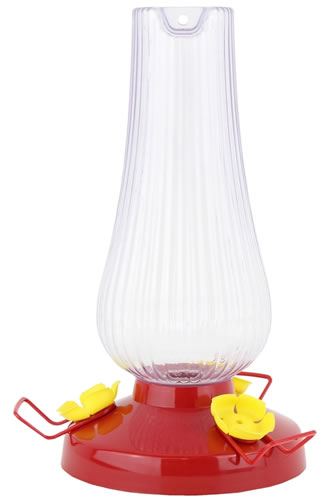 Click Image to Enlarge
Hummingbirds are a fan favorite among birders. With our Perky-Pet fluted oil lamp plastic hummingbird feeder you can easily attract these iridescent beauties to your yard. Your hummingbirds won't be able to resist the feeder's lifelike hollyhock-inspired feeding ports. Each port is accompanied by a removable perch so birds can rest while they dine. Plus, with three feeding stations, multiple hummingbirds can easily be accommodated at the same time, yielding hours of viewing enjoyment for hummingbird fans. And since it holds up to 20 oz of nectar, your hummingbird visitors are sure to be in good supply.
Three hollyhock inspired soft and flexible feeding ports
Tapered feeding ports keep bees out of nectar
Unique silhouette makes a focal point in any yard
Attracts Allens Hummingbird Annas Hummingbird Calliope Hummingbird Ruby-Throated Hummingbird Rufous Hummingbird
Design/Theme Fluted Oil Lamp
Food Capacity 20 oz
Material Plastic
Number of Ports/Perches 3
Height: 9.000"
Length: 5.000"
Width: 5.000"