Perky-Pet 243SF Bird Food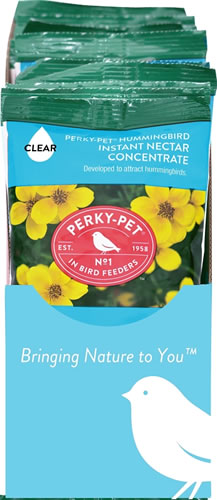 Click Image to Enlarge
Perky-Pet clear instant nectar is made of 100% sucrose, which provides the highest amount of energy to hummingbirds. The 8 oz bag makes 48 oz of clear hummingbird nectar. This hummingbird nectar concentrate is so easy-to-use Simply stir in water and there's no boiling required.
Easy to use clear powder concentrate
Made of 100% sucrose an essential energy source for hummingbirds
Simply mix with water no boiling required
Attracts Hummingbird
Color Clear
Container Type Bag
Form Dry
Net Content 8 oz
Height: 7.700"
Length: 15.000"
Width: 4.300"