Perky-Pet 217 Bird Feeder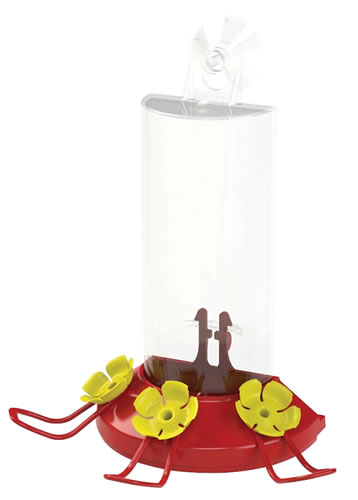 Click Image to Enlarge
Feeder holds up to 8 oz of nectar, has a transparent, plastic reservoir and bright-red plastic parts that will capture the attention of hummingbirds. A rounded, gently sloped base comes equipped with 3 flower-shaped feeding ports and 3 detachable perches to provide hummingbirds with a comfortable place to perch.
Suction cup attaches to window for easy viewing
Monitor nectar levels with clear, plastic reservoir
3 flower-shaped feeding ports with perches
Holds 8 oz of nectar3
Attracts Hummingbird
Color Clear/Red
Design/Theme Window-Mount
Food Capacity 8 oz
Material Acrylic/Plastic
Number of Ports/Perches 3
Height: 9.440"
Length: 11.260"
Width: 11.000"