Perky-Pet 211 Bird Feeder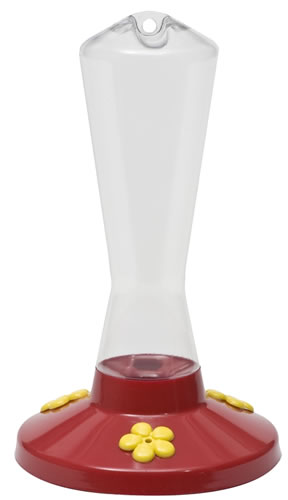 Click Image to Enlarge
The Perky-Pet clear plastic hummingbird feeder features three feeding ports and holds 8 oz of nectar. The clear, plastic reservoir of this birdfeeder makes it easy to monitor nectar levels and unscrews easily from the feeder base for quick cleaning and filling. This classic birdfeeder with its pinch waist design has been a fashionable favorite of hummingbird enthusiasts.
Classic pinch waist design
Monitor nectar levels with clear, shatter-resistant plastic reservoir
Ideal for all climates
Three flower shaped feeding ports
Attracts Hummingbird
Color Clear/Red
Design/Theme Pinch Waist
Food Capacity 8 oz
Includes (6) Feeders
Material Plastic
Mounting Type Hang
Number of Ports/Perches 3
Height: 8.000"
Length: 5.000"
Width: 5.000"