Perky-Pet 204CP-4 Bird Feeder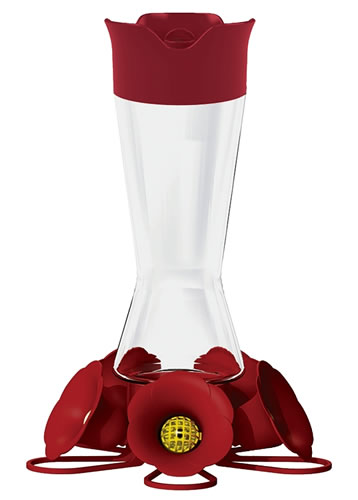 Click Image to Enlarge
The Perky-Pet favored pinch waist hummingbird feeder brings together some of our most popular features in one great feeder. Front and center is our iconic pinch waist glass bottle, a favored silhouette of many birders. Plus, the base features a whopping five flower shaped ports with our bird preferred U shaped perches. Meanwhile, the wide mouth bottle, simple disassembly and insect defenses all combine to make this a convenient feeder for birders of any experience level. Find the best seat in your house now, because hummingbirds are sure to be on their way.
Easy-to-fill and clean wide mouth opening
Protect nectar with built-in ant moat and bee guards
Feeder base comes apart for easy cleaning
Five flower-shaped feeding ports with u shaped perches
Holds up to 16 oz of nectar
Attracts Hummingbird
Color Red
Material Glass
Height: 11.000"
Length: 14.000"
Width: 13.750"