Perky-Pet 203CPBN Bird Feeder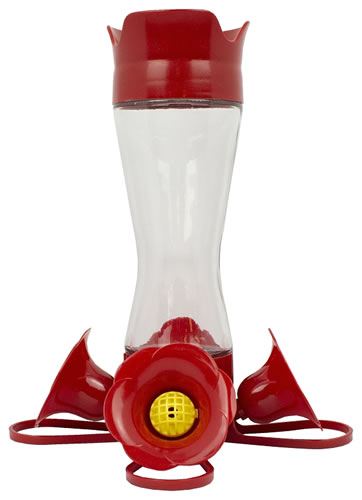 Click Image to Enlarge
It's the classic design that you know and love with a few great updates. The new and improved wide-mouth bottle and simple disassembly makes cleaning easier than ever before. Meanwhile, the attention-catching color and 8 oz nectar capacity are irresistible to hummers.
Wide-mouthed lid removes for easy filling and cleaning
Four flower-shaped feeding ports with comfortable perches
Entire feeder comes apart for thorough cleaning
Built-in bee guards and ant moat keeps insects out
Clear glass bottle makes it easy to monitor nectar levels
Holds up to 8 oz of nectar
Attracts Hummingbird
Color Bright Red
Food Capacity 8 oz
Material Glass/Plastic
Number of Ports/Perches 4
Height: 11.340"
Length: 20.240"
Width: 13.780"