Perky-Pet 138TF Bird Feeder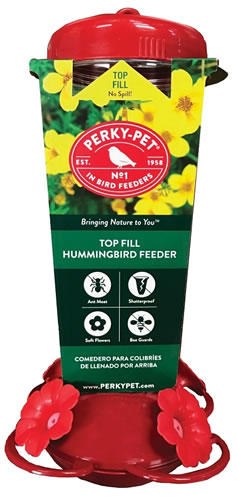 Click Image to Enlarge
Attract iridescent beauties to your yard with the Perky-Pet top fill hummingbird feeder. Thanks to patented top fill technology, filling has never been easier. To fill, simply unscrew the cap and pour nectar into the top, no inverting necessary. Plus, the convenient wide-mouth opening reduces the risk of spillage while you pour. To attract more hummingbirds, the top fill feeder features four flower-shaped feeding ports with perches. The flower shape, red color and soft, flexible feel of the ports combine to create a more natural feeding experience that hummingbirds won't be able to resist. With a built-in ant moat, ants will never be a problem for this feeder. In addition, the plastic reservoir holds up to 24 oz of nectar to keep your hummers satisfied.
Easy-to-fill wide-mouth opening with Top Fill technology
Base comes apart for easy cleaning
Built-in ant moat keeps ants away
Four soft flower feeding ports with perches
Holds up to 24 oz of nectar
Attracts Hummingbird
Color Clear
Food Capacity 24 oz
Material Plastic
Number of Ports/Perches 4
Height: 11.000"
Length: 10.250"
Width: 10.250"