Perky-Pet 131TF Bird Feeder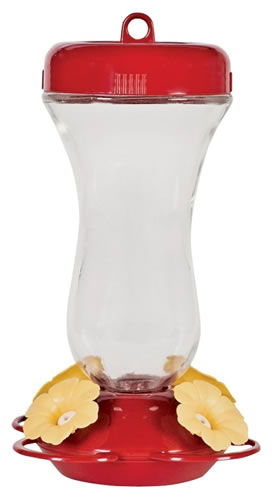 Click Image to Enlarge
This feeder has been designed to please both you and your visiting hummingbirds by offering several unique features. To make the feeder easier to fill and clean, it has a convenient wide mouth bottle. It can be filled by simply removing the cap and pouring 16 oz of nectar into the top. The wide opening will reduces messes and spills. To entice your hummers, the feeder offers four perches and soft, flower-shaped feeding ports, which have a more natural feel.
Wide mouth with Top Fill technology is easy-to-fill
Keep insects away with built-in ant moat
Four soft flower feeding ports with perches
Hardened glass container for quick monitoring of nectar levels
Holds up to 16 oz of nectar
Attracts Hummingbird
Color Red
Finish Clear
Material Glass/Plastic
Number of Ports/Perches 4
Height: 9.680"
Length: 17.090"
Width: 12.690"