Orbit 62061N Hose Faucet Timer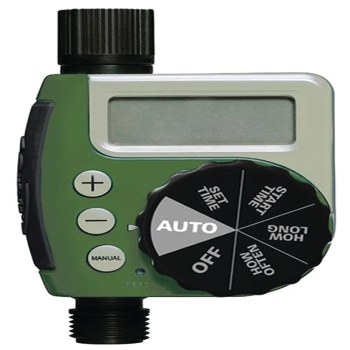 Click Image to Enlarge
This one dial hose faucet timer allows complete control and functionality over your watering needs. Cycles easily from set clock, set watering time, how often, how long, then run program. A rain delay is built into the run program function. A manual button allows program interruption.
Oversized features for ease of use
Rain delay for water conservation
Intervals from every 6 hrs to once every 7 days
Run time from 1 to 240 mins (4 hrs)
Manual override button to keep programming and allow flexible manual watering
Battery Type AA Alkaline
Cycle Time 1 to 240 min
Height 10.875 in
Number Of Zones 1
Type Single-Dial
Height: 10.875"
Length: 12.75"
Width: 7.5"