Orbit 58910 Hose Faucet Timer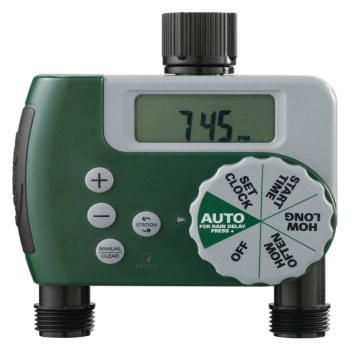 Click Image to Enlarge
The Orbit 2 outlet digital watering timer will turn your hose faucet into a programmed sprinkler system in minutes. No more dead plants because you forgot to water them. No more soggy lawns because you forgot to turn the water off. Just set the timer and go. With a large digital display, oversized dial and simple controls, programming is fast and easy. Built with high-quality materials and water-resistant construction you can count on many years of dependable service.
Easy to set and use
Large easy-to-read digital display
Watering frequency from every 6 hrs up to every 7th day
Watering duration from 1 to 240 mins
Rain delay options of 24, 48 or 72 hr
Install quickly with swivel connection
Durable, weather-resistant construction
Manual watering without interrupting programming
Battery Type AA
Cycle Time 1 to 240 min
Display Type Digital
Height 10.875 in
Type Dual-Outlet
Height: 10.875"
Length: 8"
Width: 3"