Morning Song Melody Select Series 14064 Wild Bird Food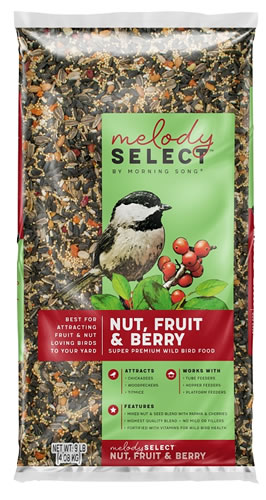 Click Image to Enlarge
Melody Select nut, fruit and berry wild bird food is brimming with seeds, nuts and 100% real fruit to attract a variety of nut and fruit-loving birds to your feeders. This sweet and savory blend of chunky treats features protein-rich peanuts, mixed nuts and sunflower seeds loaded with healthy fat, plus high-energy raisins, papaya and cherries.
Attracts Chickadees Woodpeckers Titmice
Container Type Bag
Flavor Berry Fruit Nut
Form Chunky
Net Content 9 lb
Suitable Feeder Type Hopper Tube Platform
Type Premium
Height: 14.000"
Length: 15.880"
Width: 12.750"