Lyric 26-47410 Wild Bird Feed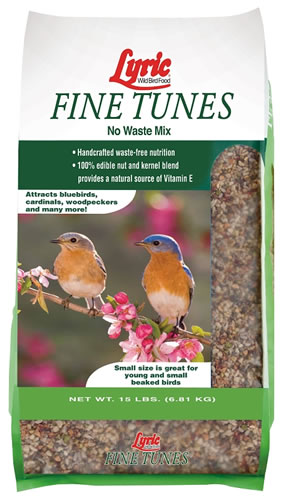 Click Image to Enlarge
Lyric Fine Tunes is a 100% edible, no-waste bird feeding mix. It is a nutritious blend of nuts and kernels, finely-cut for easier feeding and smoother flowing in bird feeders. Our fine-cut mix is easier to use and easier to eat. All shells and hulls are removed from Lyric Fine Tunes nuts and seeds and the mix contains no fillers. Fine Tunes is a food all songbirds, especially smaller beaked birds, will truly enjoy.
Designed to flow easier in smaller feeders
A natural source of vitamin e for bird health
A hand-crafted mix providing protein and energy to cardinals, titmice, robins, nuthatches, finches and more
Container Type Bag
Ingredients Almonds Hulled White Proso Millet Pistachios Pumpkin Kernels Roasted Peanuts Sunflower Kernels
Net Content 15 lb
Height: 24.500"
Length: 4.250"
Width: 12.000"