Landscapers Select TC4703 Hose Reel Cart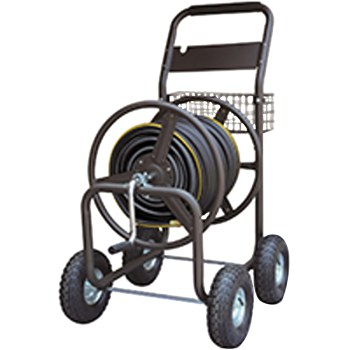 Click Image to Enlarge
The Landscapers Select hose reel cart is made from a durable powder coated steel construction. It has a convenient top storage basket, 6 ft leader hose, and 10 in pneumatic wheels with steel rim, which is included.
Easy to maneuver with pneumatic tires
Includes a convenient storage basket
Made of steel
Dimensions 44-1/2 in H x 37 in W x 24-3/4 in D
Finish Brown Hammertone
Handle Material Steel
Hose Capacity 400 x (5/8) hose ft (in)
Includes 6 ft Leader Hose and Storage Basket
Material Steel
Number of Wheels 4
Pressure Rating 30 psi
Reel Diameter 19-3/8 in
Wheel Type Pneumatic
Winding Type Manual Crank
Height: 20.47"
Length: 25.2"
Width: 19.69"