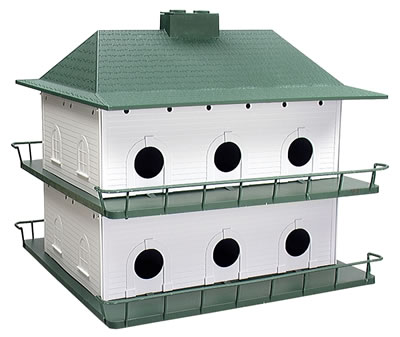 Click Image to Enlarge
The HEATH Plastic Purple Martin House is constructed of lightweight plastic for a house that is easy to raise and lower. It is sectioned into 12 rooms with properly sized entrance holes. The front panels lift up for easy nest checks and cleaning.
12-Room Purple Martin house constructed of lightweight plastic for easy lifting and lowering
Easy snap assembly
Front panels lift open for nest checks
Drainage holes allow moisture to escape
Porch railings help keep young Purple Martins safe
Bird Type Purple Martin
Color Green/White
Includes (2) Story and (12) Room House
Height: 21.500"
Length: 8.000"
Width: 22.500"