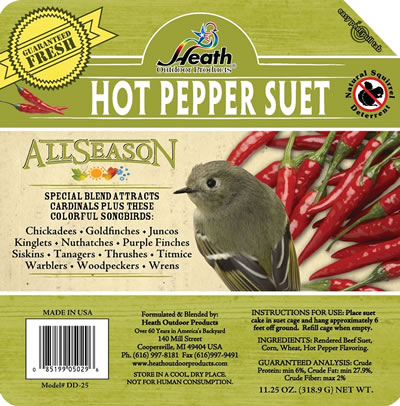 Click Image to Enlarge
Hot Pepper acts as a natural squirrel deterrent. Attracts these colorful songbirds like Cardinals, Chickadees, Goldfinches, Juncos, Kinglets, Nuthatches, Purple Finches, Siskens, Tanagers, Thrushes, Titmice, Warblers, Woodpeckers and Wrens. Store in a cool, dry place. Wash hands with soap and water after handling.
No melt all-season suet cake
Hot pepper blend deters squirrels from feeding
A high energy treat to attract colorful songbirds
Assured fresh
Store in a cool, dry place
Flavor Hot Pepper
Net Content 11.25 oz
Type All-Season
Height: 5.500"
Length: 15.250"
Width: 5.500"