Gilmour 813483-1002 Pivoting Sprinkler Base with OnOff Switch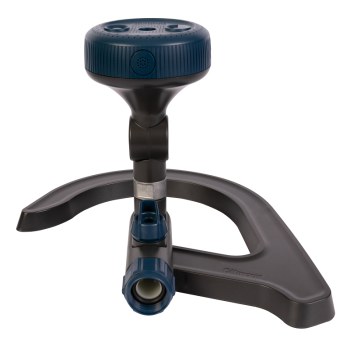 Click Image to Enlarge
The Gilmour pivoting multi-pattern sprinkler base with On/Off switch is ideal for precise, targeted watering of garden beds, irregular areas, difficult-to-reach green spaces and new seedlings. Its infinitely adjustable head pivots 180 deg and rotates 360 deg, allowing you to aim the continuous spray exactly where you want, from any angle you want, without having to move the sprinkler. Four spray patterns ensure you always have the right fit, inner shower for soaking, outer shower for rain-like spray, half-circle for edges and full-circle for larger areas. The no-tip shape of the base provides stability on the ground. It also features an On/Off switch that eliminates trips to the spigot and prevents you from getting soaked.
Base is shaped for no-tip stability on the ground, while an On/Off switch eliminates trips to the tap
Adjustable Rotation Angle 360 deg
Color Onyx
Dimensions 4.5 in L x 10 in W x 5.13 in H
Full-Circle/Part-Circle Full-Circle
Material Plastic
Operating Range 1250 sq-ft
Spray Pattern Multi
Height: 11.5"
Length: 7"
Width: 3"