Gilmour 809993-1001 Impulse Sprinkler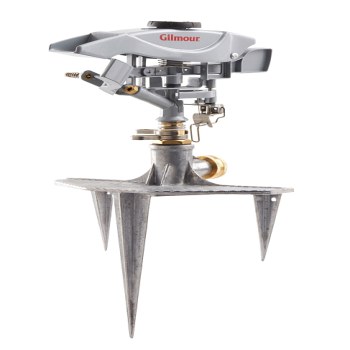 Click Image to Enlarge
Tough enough for constant use, extended spray covers 50% more area than standard sprinklers. Customizable coverage and all-metal construction make this the go-to sprinkler for the pros. The swivel coupling provides a tight and durable connection to your hose while the metal spike stays firmly planted in the ground.
Adjustable collar for partial to full circle coverage
Diffuser pin customizes spray, from powerful jet to gentle mist
Easy-to-adjust dial customizes spray distance
Dimensions 8.1 x 5 x 18.5 in
Full-Circle/Part-Circle Full-Circle
Material Metal
Spray Pattern Full-Circle
Height: 17.13"
Length: 19.75"
Width: 9"