Gilmour 805862-1001 Spray Nozzle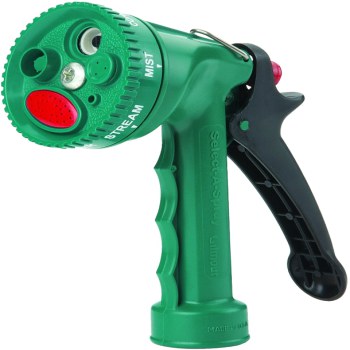 Click Image to Enlarge
Durable, rust-resistant, high-impact poly construction. Polymer valve assembly with fixed nut. 4-position dial for spray pattern selection: full action, gentle shower, sharp stream and flat spray. Hold open clip. Rust resistant stainless steel spring. Self-adjusting for lifetime leak-free seal.
7 spray patterns to meet your watering and cleanup needs
Flow control dial customizes force of the water stream
Hold-open clip for continuous spraying
Dimensions 2.25 x 5.4 x 6.75 in
Includes Stainless Steel Spring
Material Plastic
Height: 5.19"
Length: 16.25"
Width: 8.33"